Listen to Graham and Pat talking about love and decide if the following sentences are true or false
1. Graham met Pat at night.
2. He had tickets to see Luther Van Dross in concert.
3. Pat thinks that Graham has become better looking with time.
4. Pat thinks that she didn't fall in love with Graham immediately.
5. For Pat, Graham is her definition of love.


There are some mistakes in the word order of the following transcription. Listen to Pat and Graham again and re-write the words in the correct order. Use the pause button to listen in sections. Follow the example
Ej.)
So Pat, remember you do first that night we met?

It I couldn't forget. It was magical.


I thought so, I thought so. What it was that you attracted to me?


Other than the Diana Ross tickets…? Looks good obviously and your charm.


That's nice. Would say you that I've got good looking more as have the years gone on?


I thought never it was possible but, when I at you look now, definitely yes.


But it was at love first sight?


For me, you looked at I when, without a doubt.


How you would define love?


Quite simply in a three word letter, just you.


That's very of you kind.





No te resulte extraño si en Inglaterra la cobradora del autobús te llama 'love'. No intenta entablar ninguna relación contigo, sino que solamente trata de ser amable. Es habitual en los mercados y tiendas de barrio dirigirse a la gente con palabras cariñosas como 'darling' o 'love'.


El día 14 de febrero (San Valentín) es el día de los enamorados. Los jóvenes románticos se declaran su amor enviándose tarjetas anónimas unos a otros con versos, generalmente conocidos.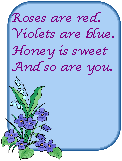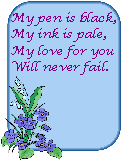 La Mansión del Inglés. http://www.mansioningles.com
© Copyright La Mansión del Inglés C.B.. Todos los derechos reservados.