Match the verbs with the most probable words.
To insert
1. To run
2. To surf


3. To send / receive
4. To click on
5. To highlight
6. To compress


Listen and repeat to practise pronunciation.


Listen to different people answering the following questions about computers and tick the 'yes', 'no' or 'not sure' box, depending on their answers.
Steph
El Tel
Kevin
yes
no
not sure
yes
no
not sure
yes
no
not sure
1. Sending and receiving emails
2. Compressing and opening attachments
3. Surfing the net
4. Favourite site
5. a) Search engine
b) Toolbar
c) Modem
6. downloading files from the web
7. Using spreadsheets finances / accounts
8. Entering a chat room on the net
9. Hours on line (per week)
<5

5-10

>10





<5

5-10

>10

10. Virus



Use the above table to help you and write the questions below. Follow the example.
Haz uso de la tabla del ejercicio anterior para ayudarte y escríbe las preguntas en los espacios de abajo siguiendo el ejemplo.
1. Do you know how to send and receive emails?

2. Can you ?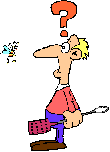 3. Have ?
4. ?
5. Do ?
a) a search engine b) a toolbar c) a modem
6. ?
7. Have spreadsheet?
8. ?
9. How ?
10. Have ?


Listen again to check your answers.



Listen and repeat the questions. Focus on the intonation of the questions.
La Mansión del Inglés. https://www.mansioningles.com
© Copyright La Mansión del Inglés C.B.. Todos los derechos reservados.