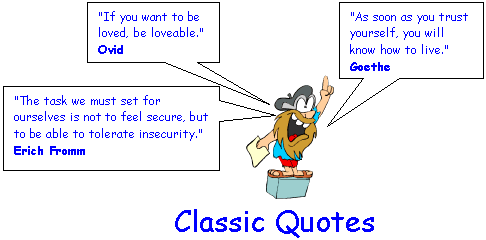 La Mansión del Inglés presenta una colección de Frases Célebres pronunciadas por grandes hombres y mujeres desde los inicios de la historia hasta el presente.
Para emplear en conversaciones, tarjetas de felicitación o dedicatorias en libros. Para enriquecer tu vocabulario o simplemente para leerlas y disfrutar.
Estaremos encantados de recibir cualquier comentario o aportación de tus Frases Célebres favoritas que podrían ser agregadas a cualquiera de las secciones existentes.

* Dispones de una sección de ejercicios tipo Quiz gramaticales basados en Frases Célebres

La Mansión del Inglés presents A collection of Classic Quotes said by great men and women from the beginning of history to the present day.
For speeches, greeting cards and book inscriptions. To pepper your vocabulary or simply read and enjoy.
We welcome any comments you may have on our Classic Quotes section, and we will be happy to receive your personal 'favourite quotes' for consideration if you would like them added to any topic.

La Mansión del Inglés. http://www.mansioningles.com
© Copyright La Mansión del Inglés C.B. - Todos los Derechos Reservados . -