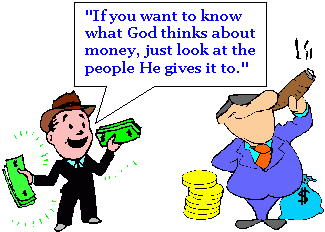 Match the verbs on the left with the phrases on the right.


Listen and repeat to practise pronunciation.
- Ojo -
You do business, but you make money
You earn money at work, but you win money on the lottery, at the casino or in a competition.
You borrow money from someone and lend money to someone.


lend = prestar
borrow = pedir prestado
spend = gastar
give away = regalar
win = ganar
lose = perder
earn = ganar
waste = malgastar
invest = invertir
inherit = heredar
save = ahorrar


Money es un sustantivo incontable que se traduce por 'dinero'.
Un billete bancario se llama 'note' (no confundir con los billetes de transporte que se denominan 'tickets').
La billetera o cartera donde guardamos el dinero se llama 'wallet' o también 'purse' cuando se trata de un monedero femenino.
Una moneda se traduce por 'coin' en cambio, cuando nos referimos a la unidad monetaria de un país el término apropiado es 'currency'.

Necesito monedas para llamar por telefono.

I need some coins to make a phone call.
USA es un país con una moneda fuerte.

USA is a country with a strong currency.

Observa las siguientes locuciones:



for my money

a mi juicio
made of money (o también) to be in the money

estar forrado (de dinero)
to put money into something

invertir en algo
to put your money on something / somebody

apostar a algo / por alguien
to throw your money about

derrochar el dinero
to put your money where your mouth is

predicar con el ejemplo



El prestamista se llama 'moneylender' en cambio un 'préstamo' (de dinero) es 'loan' y el préstamo hipotecario 'mortgage'.
Prestar (dinero u objetos) es 'lend' sin embargo, tomar prestado se traduce como 'borrow'.

Me prestas 100 dólares?

Can you lend me 100 dollars? / Can I borrow 100 dollars?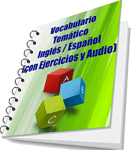 En nuestra web dispones de varias Listas de Vocabulario* en Inglés / Español, con audio y ejercicios con respuestas y agrupadas temáticamente, que puedes utilizar para aprender un gran número de palabras de muy distintos entornos y situaciones.
No intentes memorizar todos los términos desde el principio. Lo mejor es estudiar unas pocas palabras cada día e ir repasando periódicamente las aprendidas días atrás.
Si prefieres ayudarte de tu PC, en nuestra Sección de Programas podrás descargar gratuitamente algunos que te permiten crear tus propias listas de vocabulario y practicar su aprendizaje.

*Puedes también descargar el vocabulario en PDF con los ejercicios y pronunciación en nuestra Tienda de Descargas

La Mansión del Inglés. http://www.mansioningles.com
© Copyright La Mansión del Inglés C.B.. Todos los derechos reservados.