BROADCASTING LIVE WITH LYNNE AND CRAIG

Expand your English Vocabulary – Part 3
PHRASES WITH 'TIME'

Complete the sentences with the missing words.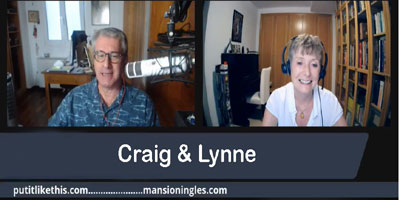 The letters in the green boxes make one more phrase with 'time'.
Write a sentence with that phrase.
a) Time FLIES when you're having fun.
b) She'll learn how to do it eventually – it's just a MATTER of time.
c) We don't have to rush it, so time is on our SIDE .
d) He decided to leave the company because his boss was giving him a HARD time.
e) Ben DID time for burglary.
f) I read through her email time and AGAIN and couldn't believe she could have written something like that.
g) I know time HEALS all wounds, but a year has passed and our breakup is still so painful.
h) It's a sci-fi film about a time TRAVELLER who goes back to the past to look for his lost father.
i) The most important thing for me is to spend some QUALITY time with my kids.
j) The interview with the Prime Minister will be broadcast during PRIME time.
k) We're increasingly PRESSED for time as there's a lot to be done during the first phase.
PHRASE: IT'S HIGH TIME
[Possible sentences: It's high time the government dealt with the financial crisis. It's high time you went to the doctor and got your knee checked.]

ANAGRAMS
Rearrange the letters in each word to create two more words containing the same letters.

EXAMPLE: TIME – item, emit

Possible answers:
a) REACT – cater, trace, crate
b) PLATES – staple, petals, pleats
c) SMILE – limes, miles, slime
d) MEAT – team, mate, tame
e) LARGE – glare, lager, regal
f) PHASE – shape, heaps
g) BREAK – baker, brake
h) STUB – buts, tubs, bust
i) SPARE – pears, spear, reaps
j) KALE – lake, leak
TAMBIÉN TE PUEDE INTERESAR: