BROADCASTING LIVE WITH LYNNE AND CRAIG

Emotions & Feelings – Part 2
Let's deal with the language describing our emotions and our feelings.

Often the verbs we use to describe emotions have more than one adjective.
Eg
to interest - interested - interesting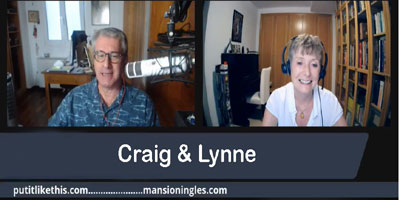 Often the adjectives are:

With ed describing the feeling experienced by the subject (passively) (actually a passive use of the verb to be)
Eg. I am interested in what Lynne and Craig have to say.
With ing describing the way a subject is giving the feeling to others (actively)
Eg. This live stream is interesting

Sometimes there are some irregular verbs
to impress - impressed - impressive
Eg. I was impressed by Lynne and Craig's live stream
Eg. Lynne and Craig's live stream was impressive.

It's also useful to learn the nouns and adjectives associated with these emotions.


INTEREST
Elicit:
Vb: To interest
Adj: interested, interesting
Adv: interestingly
Noun: interest

What ____________ you most about your job?
Who is the most …………….. person you know?
Are you ___________ in politics?

CONFUSE
Elicit:

Vb: To confuse
Adj: confused, confusing,
Adv: confusingly
Noun:confusION

What do you find the most ………….. about English?
Were you ever _________ by maths at school?
Have you ever _________ somebody for somebody else?


STRESS
Elicit:

Vb: To stress (about/over st)
Adj: stressed, stressful
Adv: - stressfully
Noun: stress

What makes you feel …………..?
What kind of situations are the most __________ for you?
How do you deal with _________?

INSPIRE
Elicit:

Vb: To inspire
Adj: inspired, inspiring, inspirational (hymns, spiritual, acts)
Adv: - inspirationally
Noun: inspiraTION

Who has ………….. you the most in your life so far?
Is there any movie/book/company you find ____________?
Why is _____________ important? Or is it?
TAMBIÉN TE PUEDE INTERESAR: