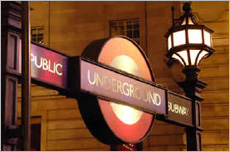 Vas a escuchar a una mujer comprando un billete en el metro de Londres. Antes de escucharlo, lee las siguientes preguntas.

1. How much does the ticket cost?



2. Which platform does the train leave from?




3. What time does the last train leave?





Help
how much = cuanto
to cost = costar, valer
ticket = billete
platform = andén
to leave = salir


Ahora escucha el diálogo y contesta las preguntas. Escúchalo tantas veces como sea necesario.
Comprueba

Escucha de nuevo y rellena la trascripción con las siguientes palabras y expresiones. Utiliza el botón de pause en tu reproductor de media para darte tiempo a escribir.

do I need Thank you Excuse me

Which can I have Lovely

Do you know what time


, an off-peak travel card please for zones 1 and 2.

That's £5.30.

Thanks. platform for Fenchurch Street?

Platform 3. Down the stairs on your right hand side.

. the last train leaves Fenchurch Street for here?

The last one is at 11.40.

.




Help

off-peak travel card = una tarjeta bono fuera de la hora punta
platform = andén
right hand side = a mano derecha


Comprueba con la trascripción completa.

Lee la trascripción completa y escúchala. Utilice el cuadro de ayuda (help) para las palabras difíciles.
La Mansión del Inglés. https://www.mansioningles.com
© Copyright La Mansión del Inglés C.B. - Todos los Derechos Reservados . -