Lee el texto (si tienes dudas del significado de alguna palabra accede al diccionario online)
Sugerencias:
- Lee el texto online. Escucha posteriormente el audio (utiliza el "control de audio" que encontrarás al final del texto o bien el icono "altavoz") y lee nuevamente el texto.
- Puedes también descargar el Audio (encontrarás el icono "altavoz"

al final del texto). Utiliza el botón derecho del ratón y "guardar enlace" para descargar el fichero a tu PC, tablet, Smartphone, etc.
- Aprovecha tus momentos libres (desplazamientos, ocio, etc.) para escuchar los audios.
- Puedes también descargar el Texto (copia el texto a Word, bloc de notas, etc., y guárdalo en tu dispositivo para consultarlo offline cuando quieras).
- Algunas recomendaciones para mejorar la lectura y el listening en inglés:

Cómo mejorar la lectura en inglés

Aprender inglés con Kinkle / Ebook Reader


Cómo mejorar el listening y la comprensión en inglés

Cómo aprender inglés en el coche


People still talk about the night John Henry was born. It was dark and cloudy. Then, lightening lit up the night sky. John Henry's birth was a big event. His parents showed him to everyone they met. John Henry was the most powerful looking baby people had ever seen. He had thick arms, wide shoulders and strong muscles. John Henry started growing when he was one day old. He continued growing until he was the strongest man who ever lived.

John Henry grew up in a world that did not let children stay children for long. One day, he was sitting on his father's knee. The boy picked up a small piece of steel and a workman's tool, a hammer. He looked at the two objects, then said, "A hammer will be the death of me."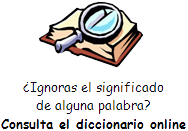 Before John Henry was six years old, he was carrying stones for workers building a nearby railroad. By the age of ten, he worked from early in the morning until night. Often, he would stop and listen to the sould of a train far away. He told his family, "I am going to be a steel-driver some day."

Steel-drivers helped create pathways for the railroad lines. These laborers had the job of cutting holes in rock. They did this by hitting thick steel drills, or spikes.

By the time John Henry was a young man, he was one of the best steel-drivers in the country. He could work for hours without missing a beat. People said he worked so fast that his hammer moved like lightening.

John Henry was almost two meters tall. He weighed more than ninety kilograms. He had a beautiful deep voice, and played an instrument called a banjo. John Henry married another steel-driver, a woman named Polly Ann. They had a son.

John Henry went to work as a steel-driver for the Chesapeake and Ohio Railroad, or C-and-O. The company asked him to lead workers on a project to extend the railroad into the Allegheny Mountains. The workers made good progress on the project until they started working near Big Bend Mountain in West Virginia.


The company's owners said the mountain was too big to build a railroad around it. So the workers were told they had to force their drills through it. This meant creating a tunnel more than one-and-one half kilometers long.

The project required about one thousand laborers and lasted three years. Pay was low and the work was difficult. The workers had to breathe thick black smoke and dust. Hundreds of men became sick. Many died.

John Henry was the strongest and fastest man involved in the project. He used a hammer that weighed more than six kilograms. Some people say he was able to cut a path of three to six meters a day.

That July was the hottest month ever in West Virginia. Many workers became tired and weak in the heat. John Henry was concerned his friends might lose their jobs. So, he picked up their hammers and began doing their work.

One week, he did his own work and that of several other steel-drivers. He worked day and night, rarely stopping to eat. The men thanked John Henry for his help. He just smiled and said, "A man ain't nothing but a man. He has just got to do his best."

The extreme heat continued for weeks. One day, a salesman came to the work area with a new drilling machine powered by steam. He said it could drill holes faster than twelve men working together. The railroad company planned to buy the machine if it worked as well as the salesman said.

The supervisor of the workers dismissed the salesman's claims. He said, "I have the best steel-driver in the country. His name is John Henry, and he can beat more than twenty men working together." The salesman disputed the statements. He said the company could have the machine without cost if John Henry was faster.

The supervisor called to John Henry. He said, "This man does not believe that you can drill faster. How about a race?'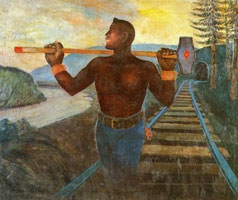 John Henry looked at the machine and saw images of the future. He saw machines taking the place of America's best laborers. He saw himself and his friends unemployed and standing by a road, asking for food. He saw men losing their families and their rights as human beings.

John Henry told the supervisor he would never let the machine take his job. His friends all cheered. However, John Henry's wife Polly Ann was not happy.

"Competing against the machine will be the death of you," she said. "You have a wife and a child. If anything happens to you, we will not ever smile again."

John Henry lifted his son into the air. He told his wife, "A man ain't nothing but a man. But, a man always has to do his best. Tomorrow, I will take my hammer and drive that steel faster than any machine."

On the day of the big event, many people came to Big Bend Mountain to watch. John Henry and the salesman stood side by side. Even early in the day, the sun was burning hot.

The competition began. John Henry kissed his hammer and started working. At first, the steam-powered drill worked two times faster than he did. Then, he started working with a hammer in each hand. He worked faster and faster. In the mountain, the heat and dust were so thick that most men would have had trouble breathing. The crowd shouted as clouds of dust came from inside the mountain.

The salesman was afraid when he heard what sounded like the mountain breaking. However, it was only the sound of John Henry at work.

Polly Ann and her son cheered when the machine was pulled from the tunnel. It had broken down. Polly Ann urged John Henry to come out. But he kept working, faster and faster. He dug deep into the darkness, hitting the steel so hard that his body began to fail him. He became weak, and his heart burst.

John Henry fell to the ground. There was a terrible silence. Polly Ann did not move because she knew what happened. John Henry's blood spilled over the ground. But he still held one of the hammers.

"I beat them," he said. His wife cried out, "Don't go, John Henry." "Bring me a cool drink of water," he said. Then he took his last breath.

Friends carried his body from the mountain. They buried him near the house where he was born. Crowds went there after they heard about John Henry's death.

Soon, the steam drill and other machines replaced the steel-drivers. Many laborers left their families, looking for work. They took the only jobs they could find. As they worked, some sang about John Henry.


Escucha la pronunciación y lee el texto de nuevo.
TAMBIÉN TE PUEDE INTERESAR:

¿Quieres recibir en tu e-mail gratis y periódicamente ejercicios, programas gratuitos, explicaciones y otros recursos para mantener tu inglés sin esfuerzo? Apúntate a nuestro cuaderno quincenal de inglés.
La Mansión del Inglés. https://www.mansioningles.com
© Copyright La Mansión del Inglés C.B. - Todos los Derechos Reservados . -