Do you remember the following phrasal verbs with up? Complete the sentences using the following verbs in the correct form.

1. I'm going to drinking beer. I'm so fat that I can't see my feet anymore!
2. Rafa's photography. He's just bought one of the latest and most expensive digital cameras.
3. I don't know how my wife me. I'm a bad husband and a terrible person to live with.
4. If you don't , we'll miss the train!
5. I've lived in Paris for twenty-five years, but I in a small village in Spain.
6. Leave the dirty dishes until tomorrow. I'll in the morning.
7. My parents find it very difficult to technology. The world is changing too fast for them.


8. I'm going to bed early tonight. Tomorrow I have to at 6.30.


Match the sentences on the left with those on the right. Follow the example.


Do you remember these phrasal verbs?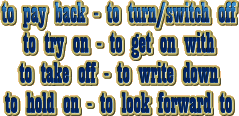 What do you say when ...
La Mansión del Inglés. https://www.mansioningles.com
© Copyright La Mansión del Inglés C.B.. Todos los derechos reservados.