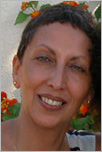 You are going to listen to Ruth speaking about her job. Before you listen, read the following questions.

1. Ruth helps people when they

a) work for customs
b) have problems with their banks
c) have to move from one country to another



2. Ruth works

a) in the centre of London
b) in a suburb of London that isn't very nice
c) in one of London's most attractive suburbs



3. True or false? Ruth's job allows her to travel very often?



4. Ruth would be happy to

a) stop working and retire to a country that has good weather.
b) work for a travel agency
c) have a good job in a very hot country




Help

Customs = aduana
Suburb = barrio residencial de las afueras

Comprueba

Listen again and complete the following transcription. Use the 'pause' button on your media player to give you time to write.


Hello Ruth, welcome to Mansión Inglés.

Thank you very much.

Er..what do you do for a living?

I'm an for an international moving company.

And can you explain a little wh..what that involves?

We work for clients, for example, big international banks. When they want to send people to another country or bring them back to the UK, they call on us and we pack them up, containerise their goods if it's overseas and then all the customs entries and so on and and unpacking at their new residence.

Right. Do..do you work in London, in the centre?

No, I don't. I work in a suburb of London Dagenham.

Hmm ..okay. Erm..that sounds the kind of job where you'd get to travel quite a lot.

Unfortunately not. I don't travel except to Dagenham…and back… and Dagenham isn't really the nicest place on earth to be.

Right. Um…if you..um…if you weren't doing this job, wh..what kind of job would you like to do..if you could change your profession?

I suppose a job that would travel of some sort, but really I'm now at a stage where I'd be quite happy to be doing nothing in a very hot country.


Now check with the complete transcription


Listen to the conversation again and read the complete transcription. Use the help box for difficult vocabulary.

La Mansión del Inglés. http://www.mansioningles.com
© Copyright La Mansión del Inglés C.B. - Todos los Derechos Reservados . -