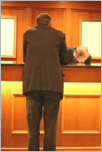 Your going to listen to a man checking into a hotel. Before you listen, read the following questions.

1. What kind of room has the man reserved?



2. How long is the man staying at the hotel?



3. Does the man ask for a smoking or a non-smoking room?



4. What time does breakfast start?



5. On what floor is the man's room?



6. What kind of restaurant does the hotel receptionist recommend?



7. How far is the restaurant from the hotel?




Now listen to the conversation and answer the questions.

Comprueba

Listen again and complete the following transcription. Use the 'pause' button on your media player to give you time to write.


Hello. Good evening.

Good evening sir. How can I help you?

Erm..I have a for a double room for three nights.

O.K.…and… sorry, yo…your name again? I beg your pardon, sir.

Yeah…sorry, it's Colin Smith.

O.K. Yes, I have that. Erm..if I could just take..erm..a few . Could you just note down your address on the…on the..er.. paper sir.

Sure. O.K.

And while your doing that, could you give me your . I just need to know the numbers.

Of course. Here's my…here's my .

Thank you. Was that a smoker or a non-smoking room, sir?

Non-smoking, please.

O.K.. Then…here's your k...erm… sir.

Thank you.

Breakfast will be from 6 o'clock in the morning 'till 9 o'clock. And the are just round on the left hand side..er.. next to the coffee table. And your room is on the 8th floor, sir. If you need anything, me a .

Just one question. Is there..erm.. a good restaurant you'd recommend around here?

What of food are you looking for, sir?

Erm…oo..anything;…erm Chinese,..erm.. Indian..anything.

There's a Thai restaurant just around the , sir.

A Thai restaurant?

About 200 metres down the road.

Right..er..O.K.…erm…Do I have to a tie?

I think you'll find a tie is provided, sir?



Now check with the complete transcription


Listen to the conversation again and read the complete transcription.

La Mansión del Inglés. http://www.mansioningles.com
© Copyright La Mansión del Inglés C.B. - Todos los Derechos Reservados . -