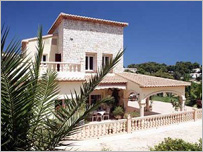 Preguntas básicas de comprensión

Primero lee las preguntas, después escucha el listening

y contesta.
1. How many bedrooms are there?
2. Do Terry and his wife have a swimming pool?
3. How many years have they been living in Spain?
4. Do they like living in Spain?
5. Have they got any animals?
(have they got = do they have)
Comprueba

Ahora, unas preguntas un poco más difíciles.
1. Is the villa very big?

2. Does Terry live upstairs or downstairs?

3. Who looks after the garden?

4. When did Terry and his wife arrive in Spain?

5. Why did he tell his wife to 'shut up'?

Comprueba

¿Podrías identificar las palabras que faltan?
My name is Terry, I live in Spain. I'm an from England he..he..he! Shut up, you're me off!

Er er I live in er.. er.. a large villa, er.. with large . We occupy the upper part of the villa.

We have two bedrooms, , naya, one bathroom and one en-suite. Er.. the walls are very thick. It's hot, it contains the heat, and the cold.

Erm.. the garden is by my wife, Stephanie. Erm.. we have a swimming pool.

We've been living in Spain for about five years. We like it very much.

We don't have any animals.
La Mansión del Inglés. http://www.mansioningles.com
© Copyright La Mansión del Inglés C.B. - Todos los Derechos Reservados . -