1. During the Fallas festival in Valencia, the noise on the streets is .
2. You've put too much milk in my coffee. I can't drink it now, it's too .
3. They should have this road years ago. When people double-park it makes it much too narrow.
4. These jeans fit me alright around the waist, but what are they? You know how short and fat my legs are.
- Don't worry, if they're too long we can them.
5. The hardest part of the interview was when she asked me what I thought my strengths and were.
6. Aconcagua is located in the Andes and reaches a of 6962 m. It is the mountain in the Americas.
7. This watch is waterproof and can be taken to a of 30 metres.
8. When I travel I learn a lot about different cultures, societies and ways of life. I think that travel really the mind.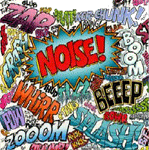 the noise on the streets is...