Before you listen to Wendy talking about her job, change the order of the words below to make the questions that Craig asks during the interview.
1. do living you a do for what?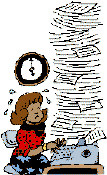 ?
2. hours are what your?
?
3. work you weekends do?
?
4. job your well-paid is?
?
5. about what job you do like your?
?
6. don't it you like what about?
?
7. you would weren't insurance you like an broker, do what to if?
?


8. country in city the in or the?



Now listen to the interview to check your answers.


Listen again and answers the following questions.
1. What's Wendy's job?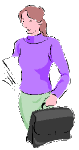 2. Does Wendy work from 9 until 5 every day?

3. Is Wendy happy with her salary?

4. How long has she been working in this kind of job?

5. What would Wendy like to do if she could change her job?



Listen again and

read the transcription. Use the Help box to check difficult words.



What are your hours?
El horario de trabajo se denomina 'hours'.

Office hours are nine to five

El horario de oficina es de nueve a cinco

Cuando hablamos de horario de clases o del horario de los medios de transporte se llama 'timetable' (en USA también 'schedule').

The railway timetable

El horario de trenes

'Opening hours' = Horario de apertura
'Business hours' = Horario de atención al público
'Summer working hours' = Horario de verano
'Flexitime' = Horario flexible
'Continuous working day' = Jornada intensiva
'Split shift' = Jornada partida
La Mansión del Inglés. http://www.mansioningles.com
© Copyright La Mansión del Inglés C.B.. Todos los derechos reservados.