Below is a map of a part of central London. Look at the map and write one example of each of the following things.
A market

1. A park
2. A square
3. A bridge
4. A royal palace


5. An art gallery
How many underground (tube) stations can you see on the map?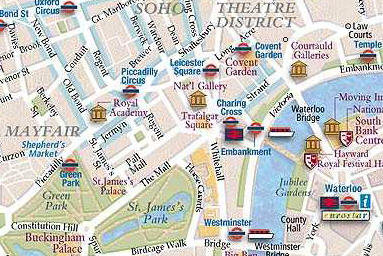 Read the following expressions for giving directions.
Turn left/right = girar/torcer/doblar a la izquierda/derecha
Go straight ahead = sigue hacía adelante/todo seguido
Go (straight) up/down/along this street = ir por ésta calle
It's on your left/right (hand side) = está a su derecha/izquierda
It's on the corner = está en la esquina
It's opposite the station = está en frente de la estación
Go over the lights/bridge = pase el semáforo
Go past the park = pase el parque
Take the first/second on the right/left = tome la primera/segunda al la derecha/izquierda
Keep going = continúe


Listen to a conversation between a tourist and a pedestrian in London and write the missing words in the spaces. Use the pause button on your media player to give you time to write.
'Excuse me. How can I get to the nearest tube station?'
Erm… this road until you get to the traffic lights. at the lights, and you'll see the station .

Thank you very much.



You're welcome.

Tube (underground) station = estación de metro (subway - US)
Traffic lights = semáforos


Listen to some more directions and write the missing words in the spaces. Use the pause button on your media player to give you time to write.
Erm…. let me see. along this street until you get to Waterloo Bridge. and at Victoria Embankment. Er… you'll see an art gallery . and into The Strand.


or the and until you get to...


Listen to the directions again and follow them on the map below. If the tourist is at Waterloo Station, where does she want to go?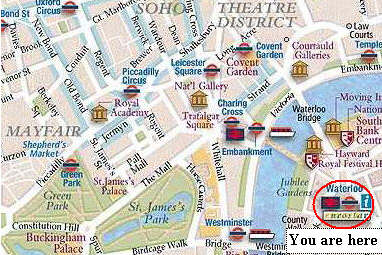 Now listen to and read the complete conversation and

check your answer.

Look at the map again and follow the directions below. Where does the tourist want to go?
From Buckingham Palace turn left and walk along Constitution Hill.


Turn right and then right again into Piccadilly and walk up Piccadilly and past Green Park station. You'll see Green park on your right hand side. Go past St. James Street and it's on the corner of Old Bond and Piccadilly.
La Mansión del Inglés. http://www.mansioningles.com
© Copyright La Mansión del Inglés C.B.. Todos los derechos reservados.